May 6, 2010
PIWA leaders meet with lawmakers
-Annual Day on the Hill held May 4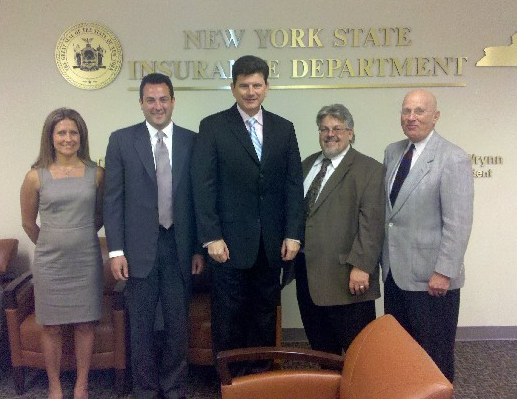 PIWA president Lucas Snyder, Vice President and Legislative Chair Jo Ann Peri, Past Presidents Bob Shapiro and Wil Cote had an active Day on the Hill in Albany on May 4.
The PIWA representatives met with key legislators and their support staff, including: Assembly Insurance Chair Joe Morelle (D-Brighton) and his committee director, Justin Wilcox; Senator Jim Seward, ranking member and former chair of the Senate Insurance Committee and his legislative director Alison Cooper; ranking member Assemblyman Will Barclay (R-Pulaski) and Assembly Minority Research director, Harry McAvoy; Senate Insurance Committee Director Evan Schneider; and Senate Conference Committee Assistant Counsel for Banking and Insurance Emily Whalen.

In addition, the group met representatives from the New York State Insurance Department, including Superintendent of Insurance James Wrynn; Deputy Superintendent Stacey Rowland; Legislative Director Tom Zyra; and Assistant Deputy Superintendent and Counsel Paul Zuckerman.

During the visits, PIWA members discussed first hand their businesses and issues and concerns of wholesalers. This is a key element to lobbying, since it puts a human element to the daily work of legislators, their staff, and the regulators. Key legislative issues

PIWA's agenda included its support of legislation introduced by the Senate Insurance Committee Chair Neil Breslin, which recognizes excess line brokers in proposed financial responsibility requirements for public vessel liability. This legislation, S.5203-A, was necessitated as a result of the tragic drownings that resulted when an uninsured tour boat capsized on Lake George. For a number of years, PIWA has been working to require minimum financial responsibility requirements for the operation of public vessels. The proposal calls for a minimum of $1 million dollar per occurrence of liability coverage. When PIWA met with Assemblyman Morelle, he, too was supportive, however, he would like to see higher minimum liability coverage for public vessels which carry a large number of passengers. PIWA will work with him and the Senate sponsor to seek enactment of this measure into law this year.

Additionally, the PIWA representatives discussed the modernization bill, S.7219 by Senator Breslin, which would allow placement in the non-admitted market without declinations on first and second renewals, and for sophisticated commercial buyers. PIWA strongly supports this ELANY initiative, along with PIWA's retail partners, PIANY and IIABNY.
Among other issues, PIWA also addressed the association's concerns regarding proposed legislation regarding premium financing.
Regulatory concerns

At the Insurance Department, PIWA had the opportunity to comment on the draft wrap-up regulations. Members are particularly concerned about subcontractors being forced to provide defense coverage to the wrap project. PIWA will provide the Department with our written comments and will follow up with additional meetings on this issue. PIWA also discussed the implementation of the circular letters regarding contract certainty as it applies to wholesalers.
PIWA Annual Conference Oct. 20

Plans are nearing completion for PIWA's 2010 Annual Conference, Oct. 20 at the Pearl River Hilton. Join your colleagues at this year's premiere event for the New York insurance wholesaler community!

The program will kick-off at 12:30 with a buffet lunch with a NAPSLO speaker, then the Legislative/regulatory update takes place from 2:10 to 3 p.m, featuring PIWA Legislative Representative Bob Pastel and ELANY Executive Director Dan Maher. It will be followed by a unique panel discussion on the Evolving Marketplace, with representatives from a wide facet of insurance markets. The evening's Service to the Industry dinner will honor Steve Vaccaro, President of Max Specialty Insurance.

Watch your PIWA publications for further updates and registration materials.