Summer 2015
Spring Reception
The Professional Insurance Wholesalers of New York State Inc. held its Spring Reception June 18, at the New York Athletic Club on Central Park South in New York City.
Brokers from around the state enjoyed networking opportunities and a spectacular view of the world-famous Central Park. The Excess Line Association of New York provided information to attendees on its year-end statistical reports, as well as information on the PIWA Hotline, which is available to PIWA members who have questions on legal and technical matter relating to the wholesale industry.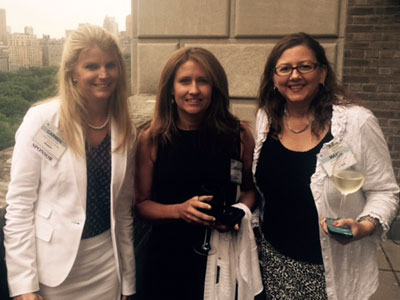 (L-R) PIWA Member Carmen McKeon; PIWA Immediate Past President Jo Ann Peri; and PIWA President Maya Cruz.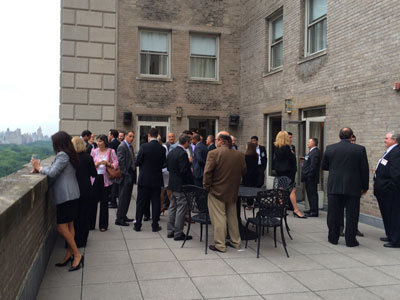 PIWA Spring Reception attendees enjoy the view of Central Park.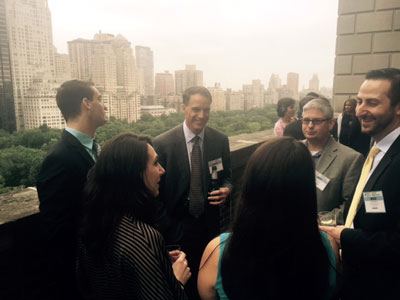 Attendees enjoy valuable networking during the PIWA Spring Reception.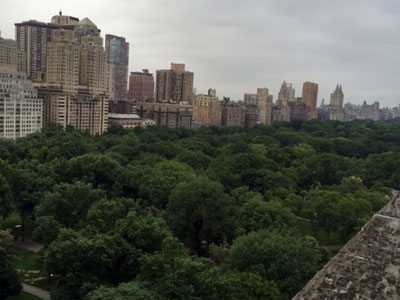 View of Central Park.
---
Legislative Update
By Bob Pastel, PIWA's Legislative Representative
The 2015 session was full of political surprises. First, the federal charges against then Speaker Silver led to the election of a new Speaker, Carl Heastie (D-Bronx.) More recently, with the charges against then Senate Majority Leader Dean Skelos and his son, a new Senate Majority leader was chosen. Senator John Flanagan (R-Suffolk) narrowly edged out upstate Senator John DeFrancisco (D-Syracuse) to become the newest Senate Majority leader. The constant throughout has been Governor Andrew Cuomo who faced personal challenges, including the death of his father, former Governor Mario Cuomo, and the illness of his significant other. He also faced the political challenge: diminished popularity as a result of conflicts with the teachers union.
However, the 2015 session was kind to the wholesale brokers. First, the Governor signed into law a bill which provides a modicum of relief to the vexing problems caused by certificates of insurance. While the legislation was signed with conditions on changes which somewhat diminished the overall impact of the law as it applies to state agencies, the resulting law should provide some relief to retail producers.
Second, there were no new fines, penalties or taxes affecting wholesalers in the NYS Budget. There is a concern that fines are being used by the administration to raise additional revenues, but fortunately this has not impacted wholesalers.
Third, there have been no new regulatory initiatives which have adversely impacted wholesalers.
There have been discussions regarding aspects of what is known as the "sharing economy" involving Uber, Lyft and ride hailing services. One aspect which we have been monitoring is the role of non-admitted insurance companies in providing insurance for these various entities. In the end, with the opposition of the NYC taxi drivers, no action was taken by the legislature.
Cybersecurity is extremely topical. The Attorney General proposed legislation which would have greatly increased the penalties for security breaches, expand the scope of protected information, but also offer certain safe harbor protection for entities which kept current with cyber security practices. The Senate has indicated an interest in this area.
As a result of settlement negotiations, Metlife sought and obtained a law which protects brokers with dealings in New York with certain life and health insurance products written by unlicensed insurance companies for non-US insureds. Given that New York should encourage the financial insurance industry and insurers to operate in New York, some think that this protection should be extended to property/casualty insurance too.
Finally, the plaintiff's bar made a last minute push to advance its agenda, first, it sought to change the medical malpractice statute of limitations to run from the discovery of the malpractice. Second, they sought to capitalize on the scandal involving the federal FEMA flood insurance engineering reports to seek private right of action for unfair claim settlement practices, including attorney fees as well as imposing punitive damages. The legislation made it to the floor of the state Senate, but did not pass the Assembly.
---

PIWA Hotline expert, Milt Thurm has submitted a new paper entitled "Trials & Traps in Premium Finance Agreements" http://piwa.org/piwa-hotline-case-2015-03-24.pdf.
If you have any questions regarding this or any other issue affecting the wholesale industry, feel free to contact Milt at the phone number above, or send an email to piwahotline@piwa.org.