Feb. 13, 2014
PIWA Annual Recognition Dinner—
Event features new administration, award winner and keynote address
The Professional Insurance Wholesalers of New York State held its Annual Recognition Dinner, Nov. 6, 2013, at Battery Gardens in New York City. The well-attended event featured a keynote address by Bernd G. Heinze, Esq., CLU, the executive director of the American Association of Managing General Agents. A widely respected lawyer and expert in insurance litigation, Heinze has been named one of the 100 Most Powerful People in the Insurance Industry—North America by the Insurance Letter and Insurance Distribution Magazine every year since 2001.
In addition, PIWA's Legislative Counsel, Bob Pastel and ELANY Executive Director Dan Maher, Esq., provided an update on regulatory and legislative issues affecting the wholesale community in New York state. This included a joint effort by the two organizations to recommend changes to the export list as well as offering amendments to Regulation 41 as it relates to "due-care" practices by excess-lines brokers.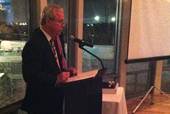 Change of administration
The association also recognized outgoing president, Jo Ann Peri for her successful term of office and her leadership.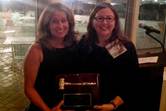 The board elected its officers for the coming year as follows:
President: Maya Cruz, RPS-CESI, New York City
Vice President: Barry Walfish, Jimcor Agencies, Plainview
Treasurer: Michael DeFeo, NIF Group Inc., Manhassett
Secretary: Anthony Sidoni, Charles A. Walker Corp., Syracuse
Immediate Past President: Jo Ann Peri, Cowles & Connell, Brewster
The membership also elected the following slate of directors:
Eric Keller, HR Keller & Co., Inc., Buffalo
Anthony Sidoni, Charles A. Walker Corp., Syracuse
David Pietrowski, LoVullo Associates Inc., Buffalo
Michael DeFeo, NIF Group Inc., Manhassett
Barry Walfish, Jimcor Agencies, Plainview
Jay Levy, Morstan General Agency Inc., Lake Success
Robert Farella, AmWins Brokerage of NY, New York City
David J. Louie, David J. Louie Inc., New York City
Newly elected president Maya Cruz thanked the membership and focused on the goals of the association and the outlook for the coming year. "As the only association that represents New York's wholesalers and the wholesale insurance community, we recognize that we play an important role in the areas of legislative representation, education and information."
Cruz continued, "We are committed to providing quality events such as this one and our Summer Symposium, which got rave reviews from participants in June. That said, we need your support and participation to make the programs successful."
She then thanked all of the company sponsors for their ongoing support and encouraged everyone to continue to support PIWA.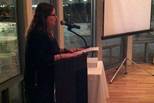 Award presentation
The next order of business was the presentation of the Abe Snyder Memorial Scholarship by past President Lucas Snyder. "This is the 10th anniversary of the scholarship and PIWA is proud to have awarded $25,000 since its inception," noted Snyder. "For those of you who did not know my father, Abe encouraged the youth of today to pursue educational opportunities that would enable them to become successful leaders in the insurance field. He was a dedicated member and president of PIWA, and a staunch supporter of PIWA's mission and its members."
Snyder announced that Edwin Lee, a senior studying risk management at St. John's University was selected as the winner of the 2013 scholarship. Lee already has put his foot in the door of the insurance industry by working as an intern at a mid-sized company and has begun the examination process for the CPCU and the ARM designations. Lee expressed sincere gratitude for the generosity of the PIWA membership for this award.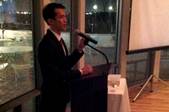 PIWA would like to give special thanks to NIF Services & Intrepid for making generous donations to the Abe Snyder Memorial Scholarship. If you are interested in supporting this fund click: http://piwa.org/donation_scholarship.pdf
---
Coming next time … Summer Symposium plans, Legislative Update, Industry Update.
---
PIAWA Company Partners
As always, many thanks go out to our Company Partners:
Gold partners
ELANY
GeneralSTAR Management Co.
Western World Insurance Group
Silver partners
Colony Specialty
Cowles & Connell of NY, Inc.
Lloyd's
LoVullo Associates Inc.
Bronze partners
Atlantic Casualty Insurance Company
Burlington Insurance Group
CMS, LLC
Endurance Specialty Underwriters
H R Keller & Co.
Markel Northeast Region
Russell Bond & Co. Inc.
TAPCO Insurance Services
Tower Group Companies
United States Liability Insurance Group
General sponsor