May 31, 2012
Spring Fling and Legislative Updates
Spring Education Fling focuses on junior brokers
PIWA's 2nd annual Spring Education Fling, held May 24 at St. Johns University in Manhattan, offered junior brokers and their employers a chance to improve their expertise and better understand the sales environment in today's transitional marketplace.
Wholesaler and company representatives joined forces for two unique and on-target education programs, followed by a networking reception.
Selling in a hard market
PIWA Director Michael DeFeo, of the NIF Group, moderated a lively panel discussion on selling in a hard market. Panelists included: Sam Anderson, Argo Group US; Edward Pray, Hartan Brokerage; and Gino Orrino, Orrino Capital Services LLC.
The overall theme of the panelists' comments was that when the market is difficult, the existence of relationships built during easier times will expedite quotes and the availability of coverage.
"The volume of the hard market makes it hard on non-admitted companies," explained Anderson, who was representing carriers on the panel. "Companies need to sort out their relationships." He noted that Argo has contracts with 25% fewer brokers than it did a few years ago, citing the need for more efficiency as the catalyst for that change. He also noted "there is a payoff for submissions that are accurate and complete:" they get preferential treatment from overworked underwriters.
Pray, speaking on behalf of wholesalers and MGAs, concurred, noting that "MGAs have more control in a hard market. They will only work with retailers with whom they have an established relationship, and only when they receive completed applications—the quality of information on risks needs to go up in a hard market."
Orrino, representing retailers, said: "Communication is the key—with our markets and with the insureds. We need to be proactive with our clients and show them the value we bring to the equation to keep the business, especially when rates are going up. We tell them when we're remarketing the account, and when we're going to a wholesaler to get a new market."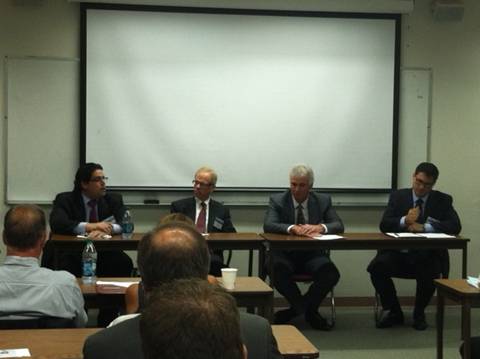 Hard market panelists from left: Gino Orrino, Sam Anderson, Ed Pray; moderator Michael DeFeo
The other panelists agreed that communication is critical, especially in a hard market.
When asked how companies communicate with brokers when a risk is facing a rate increase, Anderson said: "Our goal is to communicate in advance and work with the producer to keep the business; I think that wholesalers understand that companies need to make changes to make money but they want us to communicate with them. We try to communicate increases on an account-by-account basis, rather than drawing a line in the sand."
Pray reiterated the need for open communication: "Get out front, be honest, don't make promises you can't keep." He continued: "Things take a lot longer than a year ago; we try to keep all markets in play, but if we're in trouble on a deal, it's better for us to tell the broker asap, to keep the relationship intact."
Additional insured endorsements
Arthur Flitner, senior director of knowledge resources for the CPCU institutes, opened the program with a detailed review of additional insured endorsements, helping participants understand how to avoid complications by making sure that they use the endorsement that best fits the situation. While he recognized that non-admitted business doesn't need to follow ISO forms, he focused his education on existing standard endorsements as a means of showing how the language of endorsements can make an enormous difference in the availability of coverage.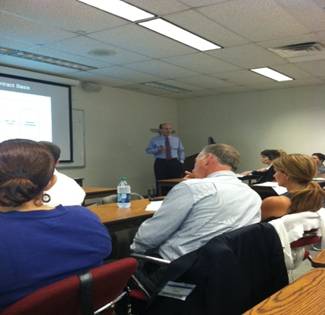 Arthur Flitner on additional insured endorsements
Thanks to PIWA company partners
PIWA President JoAnn Peri thanked all of PIWA's Company Partners, whose support of the association made events like the Spring Fling possible.

Gold Sponsors
Excess Line Assoc. of New York (ELANY)
Western World Insurance Group
Silver Sponsors
Cowles & Connell
General Reinsurance Corp.
LoVullo Associates Inc.
Bronze Sponsors
Atlantic Casualty Insurance Company
Burlington Insurance/Guilford Specialty
Endurance Specialty Underwriters
H. R. Keller & Co. Inc.
Markel Northeast Region
Penn-America Group
Russell Bond & Co., Inc.
Tower Group Companies
United States Liability Insurance Group
General Sponsor
JimCor
RPS-CESI
Networking reception
The Spring Fling ended with its traditional networking reception, allowing wholesalers and company reps to talk together about the issues addressed in the education seminars and to further build their relationships.
Fall event planned
Watch for details on PIWA's Annual Dinner, to be held in the fall.
Legislative Update
Things are moving quickly in Albany as the legislature enters the final few weeks of this legislative session. Some highlights as of May 30, according to PIWA Legislative Representative Bob Pastel:
The final day of the 2012 scheduled legislative session is June 21; the one major issue remaining for the legislators to tackle is the proposed increase in the minimum wage.
The New York Department of Financial Services recently held hearings on forced placement insurance and is actively investigating the costs of this type of coverage. No-fault is also under scrutiny by the Department.
The Department has made changes to the Reg. 86 Class 2 list, effective immediately. The changes add cyber/internet liability; D&O liability insurance-private package policies, mergers & acquisitions, product liability for fire extinguishers and accessories; attorneys E&O, aviation liability insurance, aviation hull insurance, and property insurance for highly protected risks.
No announcements have been made with regard to changes in the export list.
Legislation which would permit domestic excess line insurance companies is being discussed, but no action has been taken. The Senate version of this bill is in the Senate Finance Committee, where there is some concern that the proposed law does not provide an assessment mechanism to the state DFS for regulation purposes (as other domestic insurance companies currently do).
Legislation to require public vessel financial responsibility of $1,000,000 per occurrence, long supported by PIWA, is on the Assembly floor for consideration, but it does not have a companion bill in the Senate.