March 12, 2012
PIWA leaders meet with lawmakers
Professional Insurance Wholesalers Association of New York, Inc. leaders traveled to Albany last week to meet with lawmakers to discuss issues of concern to the state's wholesalers.
President Jo Ann Peri, Vice President Maya Cruz, and past presidents Wil Cote, Gary Ricker and Bob Shapiro lobbied state legislators and regulators underscoring wholesalers' commitment to "jobs, jobs, jobs."
The annual meetings with elected officials help to strengthen the association's ties with crucial policymakers. PIWA, while it does enjoy a good working relationship with retailers, exerts its own independent voice in Albany, raising issues of concern for the insurance wholesale community. This is a continuing effort. This year PIWA discussed promulgation of the updated export list, enactment of surplus or excess line domestic authority, and reduction of red tape through the modernization of the declination process.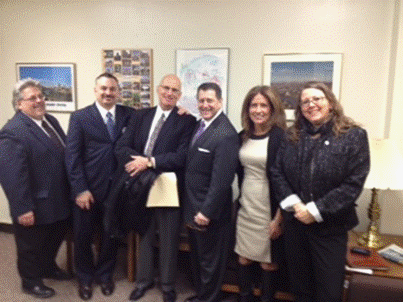 PIWA Representatives meeting with Assemblyman Joe Morelle, chair of the Assembly Insurance Committee.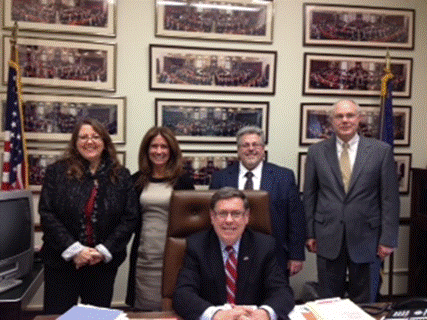 Senator James Seward, chair of the Senate Insurance Committee and PIWA leaders.
The PIWA representatives also met with:
Alison Cooper, the Senate Insurance Committee Director;
Assembly Insurance Committee Director Justin Wilcox;
Senator Breslin, ranking member of the Senate Insurance Committee
Assemblyman Barclay, ranking member of the Assembly Insurance Committee
Gail Steiner, Assistant Counsel to the Governor for insurance
Bob Farley, Assistant Counsel to the Senate Majority Leader for insurance
Eric Jacobson, Insurance Analyst for the Assembly Majority Leader
Harry McAvoy, Director of Research for the Assembly Minority Leader
PIWA legislative positions
The following positions were put forth to lawmakers during the meetings last week.
PIWA supports the adoption of a domestic surplus lines certificate of authority. This would help in two ways: 1.) it would help to prevent the loss of jobs to states which have already adopted this authority; 2.) it would provide an avenue for companies to relocate in New York, thus providing a net gain of new jobs. The 2012 budget estimates a loss of 4,400 finance and insurance jobs in New York. Adoption of the domestic surplus lines certificate of authority could help to counter this trend.
PIWA is asking the State to make it easier for them to do business in and support the operation of others doing business in New York. PIWA members are specialists, but NY regulations require them to jump through some burdensome and unnecessary hoops, not conducive to doing business in New York. PIWA supports the elimination of one such hoop by reducing the requirement that declinations be obtained from standard carriers to once every three years for renewal policies, rather than once every as is currently required. (A.3800 by Assemblyman Morelle/S.6552 by Senator Seward)
Similarly, PIWA urges the rapid promulgation of the updated Export List. There are several types of insurance coverage which are simply not available in the standard insurance market. The Export List dispenses with the requirement to seek a declination of coverage from a standard market that does not write such coverage. The Export List is reviewed periodically by the Department of Financial Services after a public hearing. PIWA believes that the Export List recommendations made in the most recent series of public hearings should be adopted with no further delay.
Mark your calendar—PIWA Spring Fling May 24
PIWA's second Spring Fling Education and Networking event will be held at St. Johns University in Manhattan on Thursday, May 24.
Afternoon education sessions are geared for producers as well as senior wholesale managers. Please encourage your entire staff to come to this event-they'll leave better prepared to sell in this changing marketplace........and they'll gain important industry contacts.
Session 1: Additional Insured endorsements and complications - Presented by Arthur Flitner, from the CPCU Institutes
Perhaps no other type of policy amendment requires more effort - and raises more questions - for brokers and underwriters than additional insured (AI) endorsements. In this session, Arthur Flitner will take us on a practical tour of the most commonly used AI endorsements and facilitate a discussion that will draw out the experience and wisdom of the audience to bring clarity to this challenging topic. So come prepared to share your expertise and questions. 3:15-3:30
Session 2: Panel discussion: How to sell successfully in a hard market
The market change has begun. Are you and your producers prepared? Discuss the impact of the changing marketplace on your operation and how your sales staff can be uniquely positioned to prosper as more retailers look to the excess line market in the hard market. Gain the perspective of company, wholesaler and retailers......perfect for anyone who hasn't yet worked in a hard market environment, and for those who realize that the hard market of 2012 will not be the same as cycles of the past.
Watch your PIWA mail and the PIWA website for registration information in the coming weeks. http://www.piwa.org

Thanks PIWA Company Partners!
Please join PIWA in thanking and supporting those companies which support the association and its activities. A special PIWA thanks goes to:
Atlantic Casualty Insurance Company
Burlington Insurance/Guilford Specialty
Cowles & Connell
Excess Line Assoc. of New York
General Reinsurance Corp.
JimCor
LoVullo Associates Inc.
Penn-America Group
Russell Bond & Co., Inc.
United States Liability Insurance Group
Western World Insurance Group